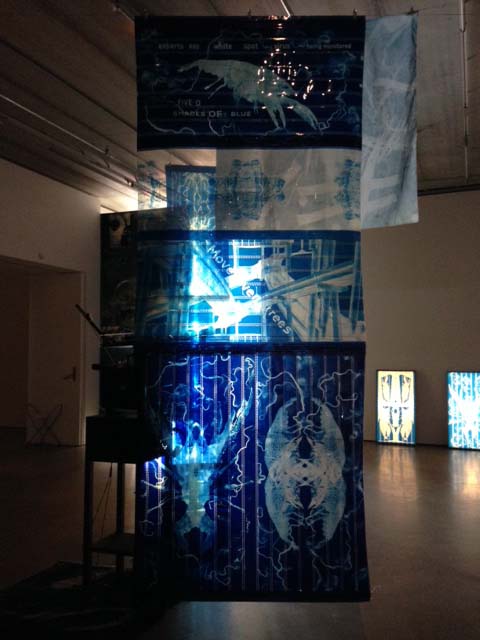 Installation view. Image: Jacquelyn Davis.
Presenting collaborations between Dutch artist Edgar Cleijne and US artist and filmmaker Ellen Gallagher, 'Better Dimension' at Stockholm's Bonniers Konsthall includes experimental works that provide socio-political commentary on US history and race relations from a cosmic, obscure distance. The pieces are primarily filmic and, while some are shown in isolation, others exist within self-contained environments that invite viewers to consider the films in relation to their constructed surroundings or as material unto themselves.
Cleijne and Gallagher's narratives are not straightforward. Rather, the artists weave poetic signs and conjure moods, rooted in abstraction or figuration, in order to suggest that which is hidden, forgotten or often oppressed in US culture – and, to an extent, within the psyche. It is as if the pair understands the interrelated nature of things: the way in which invisible or muffled energies influence the world just as much as that which is seen and known. The visitor might feel lost moving between and among the installations, but perhaps disorientation is necessary, allowing for a recalibration of position.
With Nothing Is … (2013), a 16mm film viewed via a lone projector, Cleijne and Gallagher explore representation. The title pays homage, in part, to the composer Sun Ra's 1970 album and poem of the same name. The poem's words fall upon the screen: 'The nothing and the air and the fire are really the same,' alluding to the duplicitous nature of existence, where being and non-being are in flux but linked. Ra's words alter-nate with footage of a painted portrait of the science-fiction writer Samuel R. Delany in an odd primitive state, his beard vibrating, while atop the projector is a small harp tuned to the key of 'Ra' (a specific chord denoted by the artists), which produces sound whenever the film makes contact with its strings. The instrument, Ra's words and the presence of Delany (who is also interested in elemental transitions) form an unpredictable combination that enforces the idea that moments of unexpected brilliance can be found in the absurd and arbitrary. The atmosphere created is alienating yet hopeful, providing hybrid alternatives to fixed personas.
In the middle room is a larger installation, Highway Gothic (2017) – a composite of a 70mm film, canvas c-type banners and two 16mm projections – which immerses viewers in an oceanic utopia of escapism. The blue banners, magnificent in colour and material, depict deep-sea creatures and are presented alongside film projections of Highway I-10 in New Orleans, where black communities and their businesses were displaced due to insufficient urban planning and discrimination. The most unsettling work, Better Dimension (2010), is an ad hoc viewing room, the external wooden walls of which are covered with Ra's 'cosmic newspapers', concrete poetry, tree-like structures and mathematical tangents attempting to unravel the complexities of truth. Inside the structure is an image of John F. Kennedy's head spinning above a black vinyl LP and vivid projections of biological slides. The connection between organisms – animal and plant, dead and alive – cannot be avoided: how an entity evolves from a cell to a fully functioning life form that can then be threatened by others.
Kennedy and Ra both revered the realm of space – whether outer space or a psychedelic realm of delight. 'Space is the place,' was Ra's mantra. Gallagher and Cleijne, too, appeal to the senses, promoting open-mindedness and providing entry points through which to reflect upon society from contrasting cultural and creative positions. In a world currently filled to the brim with shock and awe, the artists allow us time to simmer in their creative space, before we move forward once again.
To see the review in context, click here.