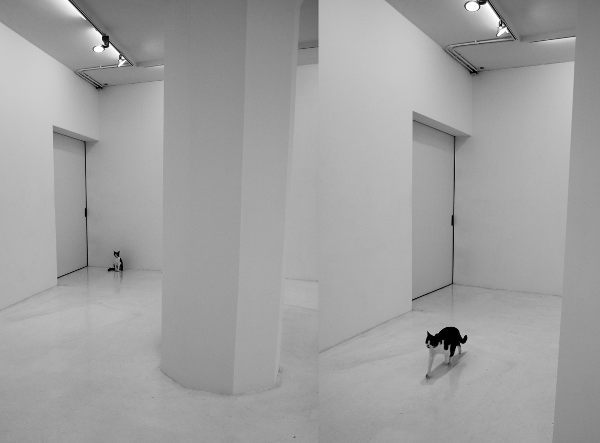 Ulrika Sparre and Steingrímur Eyfjörð, The Leyline Project, 2012, image: Ulrika Sparre
Displaying collaborations and artist initiatives from twenty-nine collectives including some one hundred participants, "(I)ndependent People" works against the tendency of biennials to promote the lone artist. While no collective functions without individual will, the unmapped terrain between the solitary artist and artist group seems a primary theme here. This exhibition harbors ambitions of reformulating inherited lexicons (e.g., subjectivity, authorship) through interventions, negotiations, workshops, and performances. Even though most collaborations are Nordic, highlighting those living and working in Scandinavia, certain collaborations originated from other regions. Lithuanian artists Nomeda & Gediminas Urbonas, for example, worked with Massachusetts Institute of Technology's 4.333 student group for HearSay House, 2012, at Reykjavík's Höfði—known for pivotal meetings such as those between Ronald Reagan and Mikhail Gorbachev during the Cold War—to playfully explore military technology while deconstructing international conflicts and false neutrality.
Selected collaborations are both planned and spontaneous, emphasizing open-ended communities and illustrating how working together can be edifying yet challenging. Many projects engaged with peripheral entities outside the original structure of each artist group, so as to create a "third space" not only reserved for a homogeneous few but accessible to an evolving populace; participating artists were encouraged to explore and transform national representations. Investigating the complexities of in-between spaces continues to be a complex frontier, but specific works provide astute perspectives. Ulrika Sparre and Steingrímur Eyfjörð's The Leyline Project, 2012—a site-specific work influenced by the glacier Snæfellsjökull—signifies the importance of harnessing untapped energy, while The Artist Formerly Known as Geist, an experimental publishing trio, reminds its audience during a one-man performance in a remote petrol station—titled Suðurlandsvegur, 2012—that collaborations are vulnerable and can die if not properly cultivated.
To see the review in context, click here.