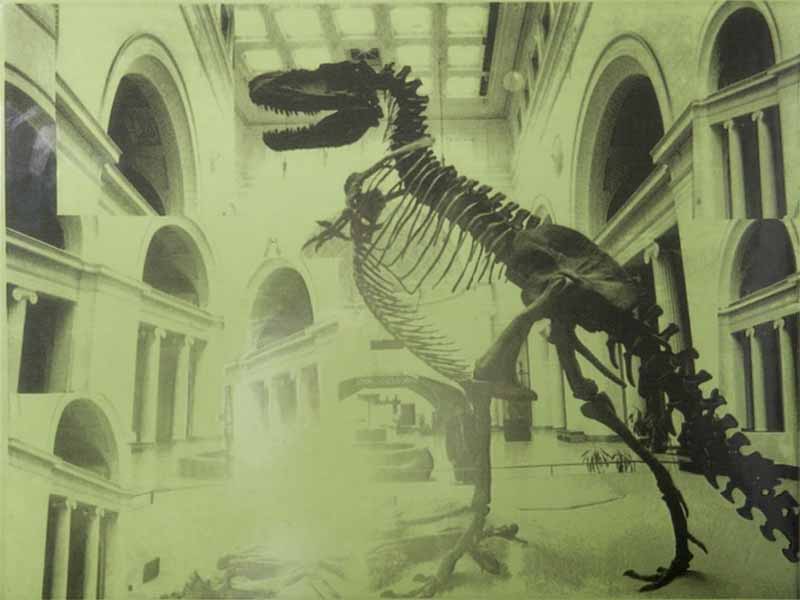 Annika von Hausswolff, Because There Is No God, No Good Dog, 2015. Image: Andréhn-Schiptjenko.
Swedish photographer Annika von Hausswolff has a history of ignoring the limitations of her chosen medium. While photographs remain her aesthetic and conceptual bedrock, she has also incorporated sculpture, installation, performance, people, and props into her diverse practice, one that chiefly explores the complexities of the human mind.
For her fifth exhibition at Stockholm's Andréhn-Schiptjenko gallery, von Hausswolff deals with memory, in particular. For the works on view, she appropriated images from various archives—newspapers, scientific sources, forensic files—then altered their composition, color scheme, or texture using filters and printing techniques, essentially extracting the original photographs from their origins.
The impetus behind this new body of work—marking a new direction for the artist—came in 2008, when Polaroid ceased production of instant film, which was once a primary ingredient in von Hausswolff's process. The film's discontinuation, initially a disturbance, became an invitation to explore analog photography. So von Hausswolff went back to the drawing board and, inspired by her darkroom roots, began experimenting with the manipulative power of light, chemicals, and technology on images.
The more than 20 individual prints on view portray a wide range of scenes—an assembly line, a natural history museum display, a cockpit, a protest—and were made using an equally diverse range of tools and techniques. After selecting her source imagery, von Hausswolf scanned and digitally converted the archival images, then printed them anew. Some were printed and applied with paint, others transferred onto enamel via screen-printing. While each work rightfully stands alone, when viewed as as a single ensemble, they read as a solemn vignette or a string of stream-of-consciousness memories.
Many images have a haunting quality due, in part, to the filtering process. Bleached-out and color-saturated compositions abound, and figures appear as burnt-out negatives or in ghostly, translucent shades. The strongest works in the exhibition show ominous scenes flooded in monochromatic colors. In Digging for History Red (2015), a deep red hue dominates the piece, casting a dark tone over an innocuous shot of two men at an archaeological dig site. Similarly, in Room of Depression (2015), the interior of a vacant room with a view of the city is bathed in hazy green, evoking a sense of doom or illness.
Other pieces have adopted a different style, such as Rorschach Portrait (2015) and Eyewitness (2015). The former shows a girl's face half-covered by a fleshy Rorschach paint blotch; the latter highlights a German Shepherd (a breed oftentimes associated with sifting through the aftermath of a crime scene) mesmerized by an unknown object. The artist painted over these images with a creamy beige reminiscent of her earlier photography where she included hints of pale skin, sheer materials, and nudity.
This series marks a new direction, where von Hausswolff has relinquished the camera in favor of found images, and departed from performance and staging. However, she remains true to her thematic interest, diving deep into the powerful effects of color, mark, and image on the human mind.
To see the review in context, click here.