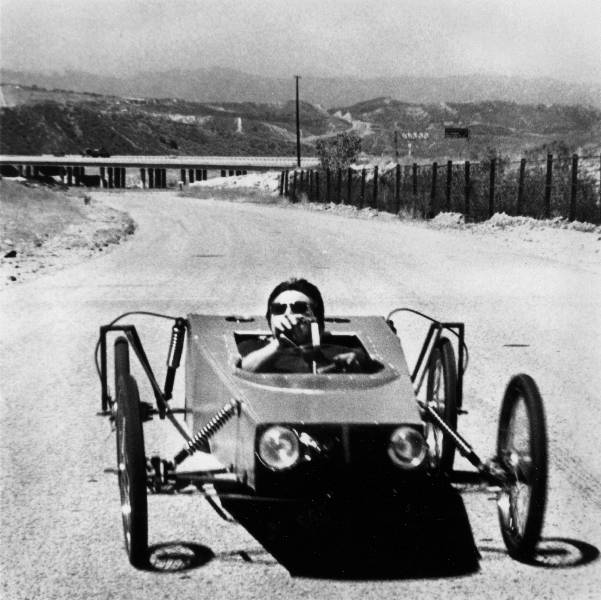 Chris Burden, B-Car, 1975, image: Magasin 3
Given that chris Burden has not shown at Magasin 3 since 1999, one might expect a more comprehensive exhibition than this. What one instead encounters is a focus on select pieces that express the American artist's interest in personal freedom and man's desire to move freely without constraints – making the impossible possible through sheer will. Responding to a question from the audience during an artist's talk at Stockholm cinema Bio Rio, Burden made it clear that his own will was never to be an entrepreneur in the traditional sense but rather to continue on his own self-constructed trajectory for as long as he could.
Curator Tessa Praun chose to not highlight Burden's more controversial works or 'danger pieces' such as Shoot (1971) and Trans-Fixed (1974), instead offering a combination of archival and new works considering the human body in motion and its relationship to transportation, technology and engineering. In what served as both a partial retrospective and a platform for emerging architectural forays such as Mexican Bridge (2013), Burden's desire to reignite that which never was or never quite came to be is evident, for the cast-iron bridge (designed in the 1860s) that would have allowed the Mexican railroad to cover the span of the Metlac Gorge was never realised. As we're reminded, some Burden projects begin by noticing an unfilled space – a historical glitch – and from there he overrides a previously documented reality with his own interventions.
Wrapping around the entire space, sketches and photographs illuminate the artist's process, offering newspaper clippings and advertisements related to the automobile as American dream, and Burden's inventive response. Preliminary renderings of the artist's B-Car (1975) coexist alongside black-and-white photographs of the low-slung contraption on a road test in Saugus, California, and later making its way through streets of Amsterdam and Paris; the actual vehicle has also been installed. The B-Car emphasises an allegiance to environmentally conscious technologies; the artist's lightweight vehicle stands as hybrid of bicycle and automobile, reaching speeds of up to 100 mph at 100 mpg. Burden was a trailblazer for a DIY community of makers and activists who eagerly followed suit, but there remains the question of whether or not the public remains interested in the American dream. Other dreams are happening elsewhere, in less obvious languages, tapping into emerging mediums.
The exhibit emits nostalgia, yet it remains simultaneously forward-thinking: the collage work Ode to Santos-Dumont, A Work in Progress (2013), for example, hints at Burden's endeavour to build a scale model of the Brazilian aviation pioneer Alberto Santos-Dumont's airship. This work is one of Burden's more fantastical undertakings; it does not represent a structure that simply didn't make the cut when looking back on history, but rather it is one that does not function in the world as we know it. The aluminium airship is not a sound structure, like a bridge or house. It was intended to be supported by a helium-filled balloon and gas engine as it revolved around the Eiffel Tower. Burden often expresses a possibility unrealised, yet this upcoming work mimics an illogical construction which desires to exist – not just in another era but in another gravitational realm. Is the poetics of creation magnified when one creates not only for this world but for another? Does a work that thrives in multiple spheres possess heightened meaning? Perhaps we'll find out in September, when, in its final form, Ode to Santos-Dumont appears in Burden's solo exhibition at the New Museum in New York.To see the review in context, click here (pg. 160).