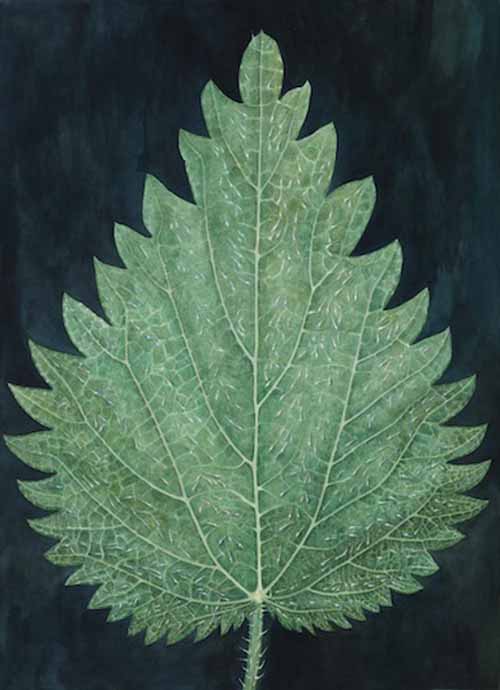 Christine Ödlund, Urtica Dioica, 2013. Image: Magasin III.
In a delicate fusion of scientific experimentation, metaphysics, and exchange between human beings and plants, Swedish artist Christine Ödlund provides an enchanting display of paintings, drawings, videos, and an organic installation that entices viewers to reconsider their relationships with both secular and spiritual realms. The exhibition positions her recent works against a backdrop of more recognizable pieces and emphasizes an open-ended discourse between speculation and knowledge, science and art. Its phantasmagorical qualities are conducive to expanding one's perspective across these fields.
Ödlund's oeuvre explores the notion that the world is influenced by energies only partially detected. There is a corollary to nature's multilayered components in the paintings Plant Perception I and II, both 2015, wherein the artist suggests, via collage, that flora are sentient beings. The time-lapse video work Cryptogami, 2016, displays an array of plants growing within a manipulated time frame, emphasizing a living creature's singular determination and will. The show, titled "Aether & Einstein," demonstrates the value of sensitivity, communication, and experimental encounters with the biological—cajoling viewers to reexamine their relations to other thriving entities. Recalibrating the role of the artist, Ödlund transforms this space into a fresh laboratory of sensory tangents. To see the review in context, click here.