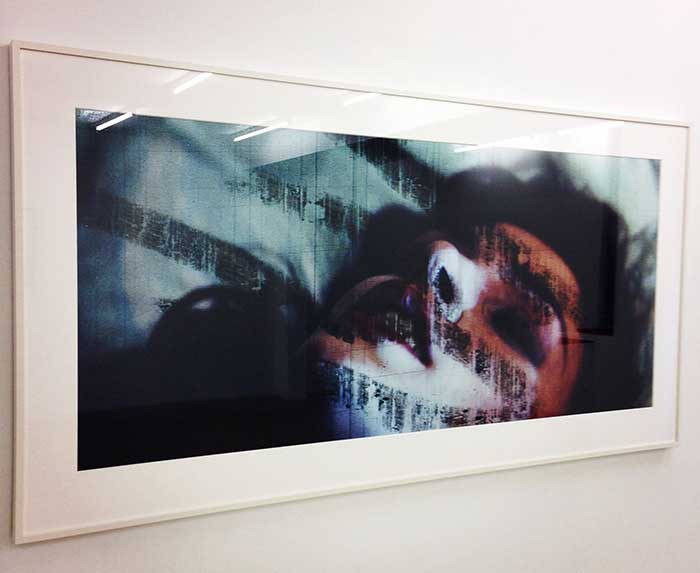 Goshka Macuga, still from Non-Consensual Act (in progress), 2013. Image: Jacquelyn Davis.
Given that Goshka Macuga's exhibition primarily consists of one twenty-two minute video, Non-Consensual Act (in progress) (2013), one may be inclined to think that it is missing fundamental components. Yet focus on this one work, and you won't feel inadequately compensated. Macuga visited the Afghan Film Archive in Kabul in 2012, out of both curiosity and concern for how it had been affected in the period of the Taliban's regime. Due to an ongoing lack of resources, funding and consideration for the archive, newsreels, documentary and feature films were neglected—the material was rarely properly digitised. Macuga, therefore, decided to support the archive and purchase small portions of film discarded via the digitisation process; she was then sent 35mm offcuts as 19 separate film rolls which appeared to contain sexually charged (and thereby censored) scenes which never mad it to the screen. (Strangely enough, these images were sent to her without any specific request for this kind of footage.) Macuga has a history of re-appropriating sourced materials, such as in the series Untitled (2008) which incorporated photographs from a Vietnam War veteran as part of the installation I Am Become Death (2009), as well as with her collaboration with anthropologist Julian Gastelo to realize the documentary Snake Society (2009). Additionally, she displays an ongoing interest in iconography and rituals, as in her artistic research on art historian Aby Warburg and Hopi American Indian art. This is on par for Macuga's course: she utilises found materials recontextualises them to support the propagation of newly devised narratives.
On hearing the artist's voiceover during her film, one discerns Macuga's discomfort when examining the delivered offcuts; these are oftentimes out of focus, comprising the beginnings and endings of reels. In Non-Consensual Act (in progress), we hear the artist express that she is not confident as to whether or not it was a deliberate move of the Afghan Film Archive to send her sexually explicit material which more often than notshows men forcing themselves on women, women objectified or women manipulated as conquests. In Macuga's patch-work of filmic images (black and white and colour imagery juxtaposed) women are viewed from a distance, in compromising situations, in the midst of precarious and lustful rapports—alongside additional images of me as powerful, oftentimes crazed victors on horseback or dominating domestic scenes, enshrouded in patriarchy. The complicated scenes are askew and foreboding, for what will become of the film industry at large when it is so often manipulated by sociopolitical forces or consciously filtered? From an international perspective, films cater to a target audience—they are created to persuade the mindset of the masses. Images in Non-Consensual Act (in progress) range in source from James Bond to Bollywood, and in content from violence to copulation.
The archive appears to be invaluable, for its existence despite the Taliban's presence in Kabul was a perilous undertaking: it was hidden behind a wall, and closed to the public during moments of intense turmoil. Purchasing offcuts was supposed to help support the Afghan Film Archive's decision to repair their roof, but there is no verification that Macuga's funds were used for renovation. Macuga asks the viewer to consider the context and meaning of this exchange between herself, the archive and those representing the archive. What is implicitly or explicitly relayed by such charged materials being sent to her? Macuga notes that the images used from the offcuts hardly incorporate or utilise dialogue; they instead focus on visuals which are never wholly decipherable. Is the archive attempting to express a perspective that the film industry has been corrupted by women? As in the myth of Pandora's Box, some eyes may simply not be ready for the offcuts, both literally and metaphorically.
To see the review in context, click here.