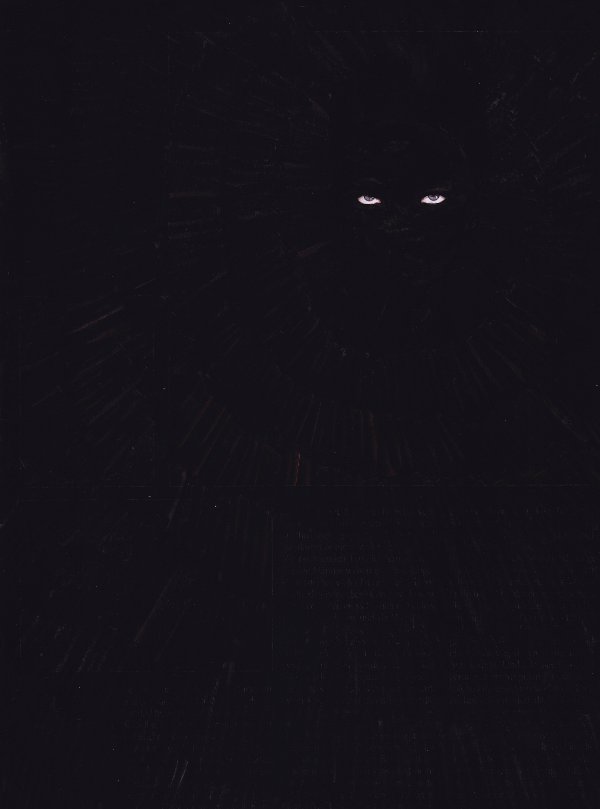 Juan-Pedro Fabra Guemberena, Black Madonnas, 2011, image: Nordin Gallery
Far from neutral, the new works in Juan-Pedro Fabra Guemberena's exhibition "YANKEE GO HOME! but please take me with you" favor extreme positions. Yet in ways similar to concentric circles, the ideas underpinning each piece fluently coincide. For instance, the shameful transforms into the sublime in the drawing Black Madonnas, 2011. Its dark metamorphosis is accomplished via means of calculated erasure—editing out graphic details of pornographic centerfolds, leaving untouched only the elusive eyes and mouth of each woman, which are awash in murky ink strokes and hints of pastel.
In the largest room hangs Banner, a handcrafted tapestry announcing IN THIS WAR YOUR UNIFORM WILL BE YOUR SKIN AND YOU CANNOT TAKE IT OFF. Embroidered on a camouflage background, it is positioned near Gallow, 2010, which is a broken, wooden gibbet. An unfinished video collage Noventa y Tres, slides between reality and fiction; proceeding from a terrorist act aboard an airplane, it is reminiscent of a predictable Hollywood drama of the 9/11 tragedy. The scene is soon punctuated with scenes of Superman in flight and seminude flight attendants—one sloppily seducing the pilot. This video reminds one of the unavoidable impact America's haunted political climate and excessive entertainment industry have had on the collective consciousness.
The exhibition's title is historically suggestive; it was originally borrowed from the 1980s graffiti movement in Montevideo, Uruguay. Yet, recently, a rehash (GO HOME YANKEE HIPSTER) was tagged on a Shepard Fairey mural in Copenhagen by those discontented with the mural's symbolism (a white dove, the word "peace," the number 69). History isn't only repeating itself—it is reappropriated and tweaked to suit the times. What sets Fabra Guemberena aside from many appropriationists is a recognition that the tortured, grotesque, and bored can be fodder for an enticing shade of chaos that can, in the long run, override an unyielding, even damaging perspective. To see the review in context, click here.