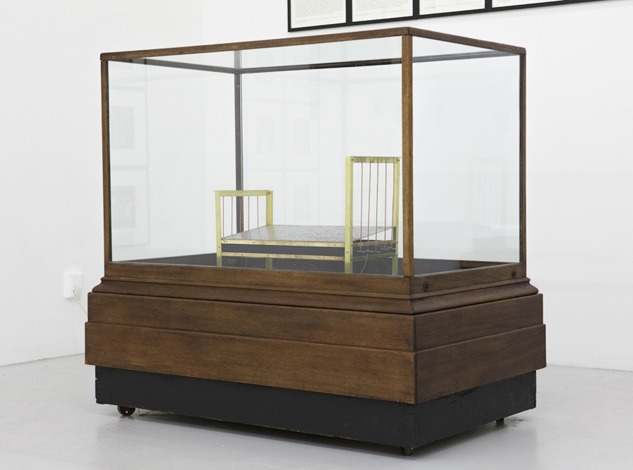 Leif Elggren, Bed, 2011, image: Galleri Niklas Belenius
Leif Elggren is unavoidable in Scandinavia: Not only is he known for his profound oeuvre of sound pieces and performances, his collaborative spirit (see his work with Thomas Liljenberg and their DIY initiative Firework Edition), and his insight into the absurdities of power and privilege but the artist also owns a specific style marked by his use of yellow and black, a color combination that he has claimed as his domain since 1977. In this exhibition, Y&B, 2013, and Y&B Bed, 2012, visually alert one to caution or danger. The show as a whole appears to be a retrospective culmination of Elggren's serious yet sometimes humorous artistic inquiry into the perplexing contradictions between modern life and spirituality.
After a close reading of the text-based work Genealogy, 2005, it is apparent that Elggren harbors anarchistic tendencies and a robust skepticism of political figures conveniently situated in power. The steel engravings of Eight Queens, 2013, for example, picture nameless female authority figures from previous eras, encouraging the viewer to consider history's respective position in today's art and society. In another work, Under the Couch, 2013, the artist, dressed in undergarments similar to those his father wore during his last days, is pictured writhing underneath Sigmund Freud's famous couch. To complement this work, Elggren invites one to peruse versions of his own bed-as-sculpture in Bed, 2011, a reproduction of the intimate site where the artist throughout his life has sketched many of his ideas. Often seen publicly wearing a self-made tin crown as if a caricatured nobleman, Elggren continues to lay claim over his kingdom unscathed (one example being the digital realm Elgaland-Vargaland, coreigned with conceptual artist Carl Michael von Hausswolff) through unique investigations into the binds of both familial and sovereign lineage.
To see the review in context, click here.