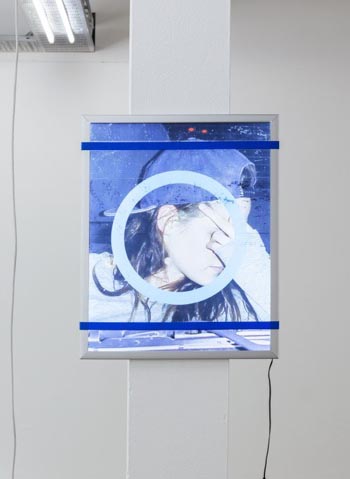 Michael Manning, Wokked Chinese Long Beans with Chicharrones, 2014. Image: Isbrytaren.
For his solo debut, Los Angeles–based artist Michael Manning presents large-scale paintings, videos, and installations that revolve around his interest in punk counterculture movements and their rapport with "reactionary network politics," which use the Internet as medium. One initially encounters a wreath of blue hyacinths, in part paying homage to Darby Crash's suicide (from the California punk band The Germs). The artist's mélange of "trill" abstraction—including vibrant colors digitally printed onto nylon, as in Wild Salmon and Salted Avocado Hecado, 2014, which is displayed across the main floor alongside others such as the media piece Curry Swordfish and Passionfruit, 2014—pushes one to abandon safer interpretations that stem from viewing art at face value instead of considering the interplay between text, image, and communication outlets.

Wokked Chinese Long Beans with Chicharrones, 2014, displays the actress Kristen Stewart caught by the paparazzi and marked with a blue circle (similar to The Germs' logo), while Lobster Boniato Mash, 2014, reads "DARK DATA," accompanying an image of NSA's Data Center. Both are digital prints on film backlit by LEDs and instances of what the Internet offers as fodder for "post-Internet" JPEG creators—the touchscreen and DPI-obsessed. The exhibition title, "Wild Fusion, VOL. III: WWWHATWWWEDOISSECRET," is reminiscent of a song by the aforementioned band; a punk-inspired approach is also used in Manning's exhibition text consisting of song quotes, Tweets, and clipped confessionals. Is it useful to ask: What criteria are now required to be "punk"—or political at best?
To see the review in context, click here.