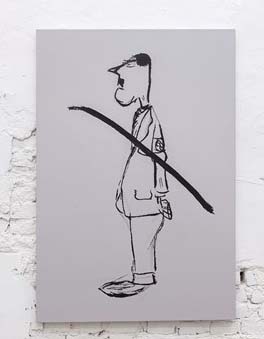 Ofer Wolberger, Nein, 2013-2015. Image: Stene Projects.
Ofer Wolberger's first exhibition in Scandinavia, titled "Nein," displays works ripe from the artist's teenage inexperience. Wolberger refuses to show any signs of an original gesture with this collection of paintings, for one of which he appropriates the titular image of Dopey, 2015. The singular, doe-eyed cartoon dwarf is borrowed both from Walt Disney's and Adolf Hitler's supposed sketches of the character—as the press release states—emphasizing the difficulty of verifying an image's origin, as well as the murky ethics of some creativity. The paintings appear childish and playful, as in the panorama of Landscape, 2015, where grass-green mountains compliment a cartoonish, royal-blue sky, or in Pinocchio I–III, 2015, where the iconic boy-puppet is exhibited in a vibrant triptych. Upon closer examination, these works seem to vacillate between a sense of emasculation and of a severe overcompensation of masculine symbols throughout. For instance, Pinocchio's nose is a phallus; a black rod lashes across the canvas in Nein, 2013–2015; and in a juvenile sketch of a skewed man titled Childhood Drawing, 2015, an oversized sexual organ projects toward some unseen target.
The artist's pieces accentuate frivolity, yet one may easily glimpse a darker, less obvious humor that exists below the surface of each displayed gesture. Adulthood is never too far from any given childhood, and these works highlight how fragile the division between comedy and tragedy remains. By drawing attention to the harsh reality of failure and misconception, the delusions that many embrace during their formative years may crumble over time with each blow or negotiation as they approach maturity.
To see the review in context, click here.