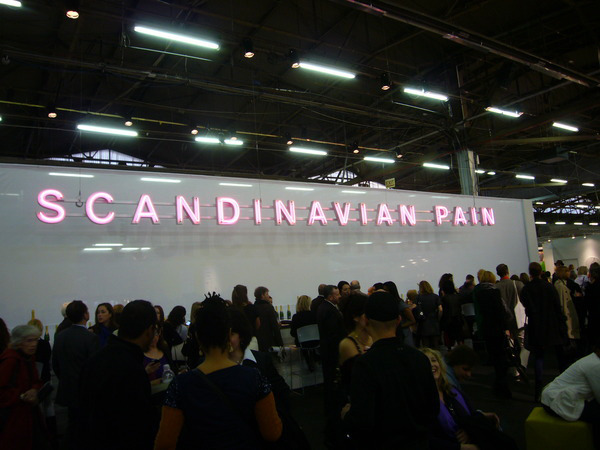 Ragnar Kjartansson, Scandinavian Pain, 2006, image: i8 Gallery
This year at the Armory (and Volta), take a trip to the icy North. The Nordic focus features Scandinavia's promising art scene, curated by Malmö Konsthall's director Jacob Fabricius, with a selection of galleries from Denmark, Iceland, Sweden, Norway and Finland. With all these galleries clustered together in a cul-de-sac at the north end of Pier 94, it's a veritable village. In an act of pure generosity and goodwill, a lounge running through the middle of the action offers up not only places to sit and, well lounge, but also books of poetry, posters and other artworks for visitors to take.
Spend at least an hour here. The ambience is relaxed, the work is excellent and ranges from translucent and poetic to dark and complex, and right next door is the champagne bar lit by the pink neon of Ragnar Kjartansson's show-stopping work, Scandinavian Pain. Your first stop should be Iceland's gallery, i8, where you can find out more about Kjartansson's work as well as swoon over a selection of Olafur Eliasson's driftwood pieces.
The scene in Stockholm is well represented. Ranging from the established to newly emerging, these spaces represent international artists such as Miriam Bäckström, Leif Elggren, Goldin+Senneby, Johanna Billing, Ann-Sofi Sidén, Viktor Rosdahl and Christian Pontus-Andersson.
Swedish artists Miriam Bäckström and Leif Elggren are represented at Gallery Niklas Belenius' booth. Two of Bäckström's pieces from the Mirrors series are exhibited, focusing on the boundary between the staged and real via photo-mirror dichotomies. Elggren's displayed pieces are eerie photographs such as Swedenborg, King Carolus XII and Queen Christina as a Baby and an uncanny sound installation. Elggren regularly collaborates with others, such as Thomas Liljenberg and American artist John Duncan whose installation and performance work is based upon cajoling the audience to actively participate with his electroacoustic sound, video and radio pieces.
CRYSTAL is an emerging space located in Stockholm's central district Vasastan, co-organized by Jun-Hi Wennergren Nordling and Katarina Sjögren. They are highlighting artists such as the collaborative duo Goldin+Senneby (Simon Goldin and Jakob Senneby) with the work Abstract Possible, which touts itself to be, "A detailed evaluation of the collecting opportunities presented by each of the works on offer in the exhibition Abstract Possible at Bukowskis," purveyed by "Thea Westreich Art Advisory." It was up for auction at a fixed price (contrary to auction house conventions but the rule for this primary market auction) at Bukowski's, as part of the Swedish curator Maria Lind's controversial exhibition at Tensta Konsthall "Abstract Possible." Previous works by Goldin+Senneby subvert and examine financial structures as well as analyze theoretic versus actual value. The provocative photographs of Julia Peirone are also presented.
Christian Larsen Gallery represents a melange of creatives including the intriguing Swedish artist Ann-Sofi Sidén who is known for The Queen of Mud works from the '80s (she recently won the Swedish Culture Prize from the daily paper Dagens Nyheter), and more recently, In Passing (2007) as well as the collaborations with The Royal Dramatic Theater and Mobile Art Production. The gothic works of Viktor Rosdahl (also on view at Norway's Dortmund Bodega), filled with layers of repressed violence, turbulence and psychological trauma are not to be missed, as well as the photographic collages from Cooper & Gorfer.
From Copenhagen, there is V1 Gallery at the far end of the lounge, and Beaver Projects has a surprising trio of works on paper by Christian Finne (they are not what they appear to be—look closely). Finnish (sic) the visit with a few moments of sound bliss at Helsinki's Galerie Anhava, where you can relax with the sounds of Tommi Grönlund & Petteri Nisunen's Wave of Matter. With approximately twenty Scandinavian spaces present at Armory this year, there is no shortage of culturally specific stimulants for enthusiasts gathering from near and far.
To see the review in context, click here.