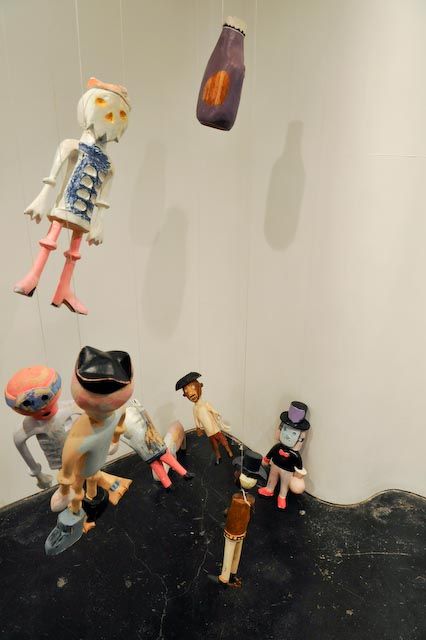 Lucky Thief, Various Sculptures, 2005-2009, various sculptures, painted wood, image: Galleri Jonas Kleerup
Curated by Valdemar Gerdin, "This Is Art" is a provocative examination of not just art but more specifically street art in Northern Europe and its variegated relationships abroad. Oddly enough, Gerdin's show is on no street, but rather: in Tegnérgatan's Galleri Jonas Kleerup, and though this colorful patchwork hints at its graffiti roots, it is sometimes difficult to imagine the presentations of Sweden's famed, creative undercurrent—namely represented here by Seen, John Fekner, Don Leicht, Faile, and Bast—thriving on any Stockholm street or elsewhere in Sweden. Yet, this is no fault of any artist in question, for Sweden has a history of frowning upon graffiti art, pushing the genre into awkward invisibility.
Known for its progressive, clean cities and well-kept public spaces, this questionable art form remains debatable material for those interested in the future of uninhibited artistic practices and the wavering trajectory of freedom of expression and liberation from oppression. The "This Is Art" press release states: "With such an attitude [that street art is vandalism] dominating the cultural establishment, Sweden will end up in the backwater of culturally more progressive countries like France and the US, at the same time as a large and important branch of contemporary art is ignored and overlooked." Stockholm's already established zero-tolerance policy against street art even includes legal graffiti, which is viewed by authorities to encourage future illegal practices. A direct effect of this is: Stockholm City Museum 's decision to discharge one of their guides after he took legal action against the city's banning of popular guided tours of the city's street art. This phenomenon fascinates many—that some progressive tendencies expect or warrant a trade-off for others. It can be a slippery conundrum, when emerging forces of cultural expression battle contextual historicities, questioning what indeed remains taboo vs. what is perceived as closed or stale.
If street art is primarily interested in dominating public space and making a significant statement, why is Sweden as a cultural entity averse to the idea of its inhabitants taking over spaces meant for everyone—not just those who choose to contain their art in what could be considered protected or proper spaces? Yet, creative voices with diverse intentions "hit the streets" portraying their disillusionment with such isolated spaces, and ironically, this exhibition of street artists has managed to find its way into a Stockholm gallery. On the other hand, more evolutionary gallerists are taking a political stance to shift artistic foci from the predictable and traditional to the subversive yet iconical in more outward collaborative attempts. Apparent offshoots of this phenomenon are Banksy and Shepherd Fairey's now recognizable Obama prints which have spread like wildfire, in part due to the most recent US presidential election. "This Is Art" shares a range of art via contrasting mediums: paintings, prints, and sculpture. Gerdin's exhibition also includes the work of three artists—Hiroyuki Matsuura, Lucky Thief and Christian Saldert—who are influenced by graffiti art, yet they approach art from a more formal perspective. Often vivid yet cryptic, works such as Seen's 15 Skull Paintings, 1999 or Lucky Thief's Various Sculptures, 2005-2009 which are macabre puppets with an askew agenda, the viewer is reminded that even the most harmless of creatures can pose a threat.
One recurring argument for street art is that even though many citizens do not want to be ambushed by the burgeoning eye candy or peripheral graffiti that makes its way into one's daily rituals, many shared spaces today are repeatedly polluted with socio-political persuasions, commercial logos, trends and mundane advertisements. If only those possessing financial power and corperate influence are allowed to share their visual stimulants, what can be said about the future of democracy, freedom of speech and the option to pursue creative expression? Who owns the rights to such luxuries, if we live in an era where graffiti artists are outwardly shunned or muted? When in doubt, dear graffiti artist, infiltrate your public gallery. People will continue to make decisions about what is and isn't art—it's important to see and be seen either way.