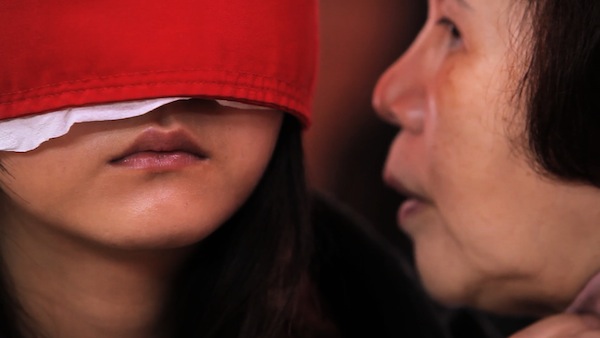 Virlani Hallberg, Receding Triangular Square, 2012, image: Galleri Riis
Born in Jakarta, the Berlin- and Stockholm-based artist Virlani Hallberg draws attention to the boundaries between individual and collective trauma, and how violence affects individuals in a long-term fashion – sometimes hindering, other times transforming those involved. Using photography and video, Hallberg emphasises that fiction and 'sensual knowledge' are tools to empower the individual against what psychologists refer to as the 'double bind' – being immersed in conflicting messages or forced to choose between options which do not guarantee a positive outcome.
The exhibition is divided amongst two rooms, the first devoted to multiple video stills from O (2012) and the second showing the video installation Receding Triangular Square (2012).
The stills from O – originally a three-channel installation – illuminate a bourgeois love triangle between a newlywed caucasian couple and their hired help, a woman of colour. Various scenes focus on how all parties objectify each other via their everyday activities and implicit social contracts. The space between violence and desire is magnified; one party psychologically tests another, dependencies surface, relationships between characters are manipulated as one role questions another and the gaze shifts between those in each frame. In one particular scene, the wife wears the exact clothing and adopts the compositional position of the maid in the initial still; chosen archetypes are tweaked to reject and question their fundamental components.
Receding Triangular Square, a collaboration between Hallberg and art historian/psychoanalyst Leon Tan, proves to be the highlight – with vivid images of Taiwanese individuals sporting red blindfolds in trancelike scenarios, Taiwan's countryside, appropriated political propaganda footage, keen elucidations of alternative rituals and traditions, and political and cultural observations stressing East-versus-West differences. Taiwan was Japan's first overseas colony, and how colonisation affects, subjugates and infiltrates notions of healing, psychological illness and despair are, here, recurring issues. Power and politics obviously relate to trauma and the ways in which cultures methodically recover and transform themselves after such life-altering experiences. The phenomenon of detachment presents itself from a number of perspectives. The video remains elusory due to its dependence upon the singular experience; it was hard to know what the characters were actually feeling; one could only speculate. Yet one senses the positioning of Eastern philosophy as superior to Euro-American psychotherapeutic paradigms. How the O stills and Receding Triangular Square video speak to one another in the same exhibition is unclear, meanwhile, aside from the fact that both works were made by the same artist. This is a recurring problematic of solo shows – forced content, urgency to fill the space with artworks even if they, perhaps, prove to be incompatible for the viewer to absorb in one designated stretch.
An intriguing addition to the show – perhaps, even, a useful segue between aforementioned works – was a comprehensive text conversation between Hallberg and Tan. Along with other topics, they shared views on the state of affairs in Sweden, which proves to be more discriminatory than other countries naïvely perceive about the Nordic nation. A country rampant with subtle (and not so subtle) racism and repression, Sweden (alongside other Scandinavian countries) is becoming fodder for a number of immigrating artists and researchers who feel such issues can no longer be muffled. They draw attention to the notion that the country is reluctant to accommodate difference. Even though Sweden admits a quota of immigrants, it does not take appropriate steps to properly integrate them once 'inside'. Thus, the collaborative duo attempt to expand their critical approach and artistic research methods to include confusions and misrepresentations which stem from immigration, colonisation and their effects – no easy feat.
To see the review in context, click here.