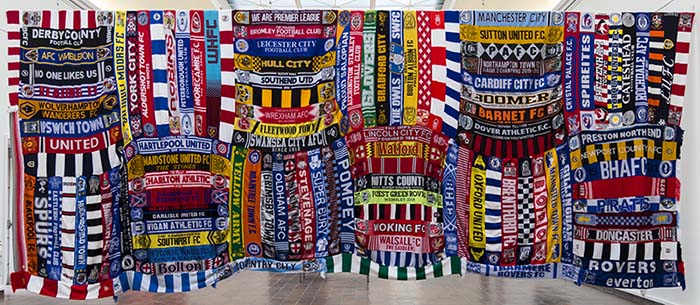 Klas Eriksson, Evidence of Patchwork, 2017. Image: Göteborgs Konsthall.
Swedish artist Klas Eriksson has developed a practice rooted in examining subcultures via works in public spaces and spontaneous performances. With an interest in how power flows and how crowds function, the artist attempts to unpack sociopolitical dynamics using playful tactics. This show raises the question: Who belongs in a gallery or institution, and how do these entities influence artists given "free rein" of such spaces?
For the paintings in "Smoke on Smoke," 2015, smoke bombs were used to infuse color into canvas; the series is a variant of Eriksson's site-specific performance pieces in which he sets off multiple smoke bombs, transforming public spaces into cloudy, ethereal milieus bordering on disaster. In this case, his work is loosely translated from one medium into another, in part responding to institutional and spatial constraints. Another example of this morphology is found in Evidence of Patchwork, 2017, where scarves for various soccer teams are sewn together in one quilt-like statement. This work alludes to the artist's collective performance series "Away Day," 2013–17, where his Kulturdrägg cohorts travel together to art events (including the opening of this show), wearing scarves he designed, in mischievous celebration and anticipation of the event itself. Meanwhile, Outside In, 2017, connects to a real-life power imbalance instead of a theoretical one. Here, Eriksson displays prison patches from the United Kingdom's HMP (Her Majesty's Prison) in glass vitrines as if they were scientific specimens—a tangible truth in this show's layout.
To see the review in context, click here.