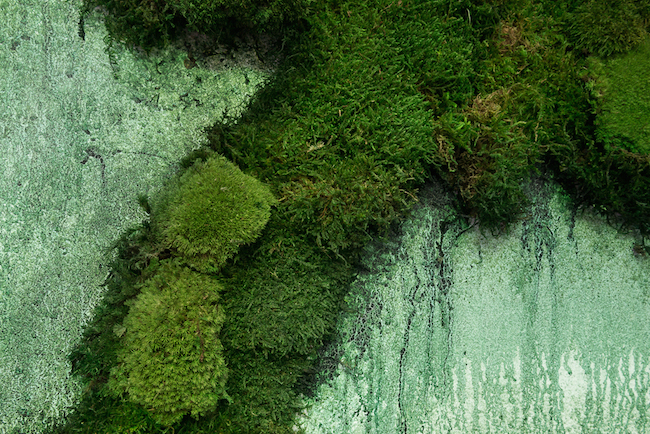 Jenna Sutela, Sporulating Paragraph, 2017. Image: Momentum 9.
Momentum 9, taking place in the industrial town of Moss, Norway, is being curated by Ulrika Flink, Ilari Laamanen, Jacob Lillemose, Gunhild Moe, and Jón B.K. Ransu, who together represent the Scandinavian region. With this biennial's focus on 'alienation', the curators joined forces to determine how alien processes and entities are infused in our lives through technological, ecological and social transformations.
The curators remark on the role of a professional artist in this contemporary condition:
"Contemporary art has the potential to question and highlight complex current phenomena. Momentum branches out even more than before with its ninth edition and features a broad variety of practices, and not only traditional gallery works, to shed light on shared cultural concerns such as the declined state of nature. Professional artists should remain critical towards existing paradigms and shared truths and explore paths less taken. They should be able to shed light on connections and kinships typically overlooked. The modes of expression and communication should be constantly rethought as well: contemporary art, and culture at large, is becoming more and more interdisciplinary."
The curators explain that one of the biennial's original premises is to address 'Nordicness'. They reflect on Nordicness in an intercultural manner, as many current concerns are shared concerns in different parts of the world. Thus, they felt it was natural to feature an international group of contributors. At the same time, they felt it was important to engage with the local community of Moss. Many invited contributors created site-sensitive works using local materials and with the help of local people. Each biennial is different from those coming before, which confirms for both the viewer and the critic that the event itself is healthily evolving. How each set of curators designs the event for public consumption, as well as how invited artists interact with its questions at large, remains diverse depending on which Momentum is examined. For this biennial, the curators explain:
"There is no specific signature piece in Momentum 9 that we are highlighting. In fact, Momentum 9 is like the human body – a cooperative whole. The biennial brings together a broad selection of international contributors. The strength of Momentum is in its interdisciplinary nature. The curiosity to look for a new kind of knowledge through the cross-pollination of different methodologies and creative expression results in unexpected encounters meant to stimulate the audience to think about their relation with the alien."
Momentum changes over time; it was initially intended to be a platform for upcoming Nordic artists, but the event gradually expanded to take part in broader discussions. The event itself has a strong impact and focus on Moss; it enriches the city's cultural life as well as surrounding areas.
The biennial's alienation theme was subdivided into the following areas: technology, ecology, social change and transdisciplinary exploration. The curators dissect their concept not from a Marxist perspective, where alienation revolves around the reality of capitalism, exploitation and worker's movements, but from an angle that declares that alienation is found in multiple arenas—many of them where human beings are not the central focus. Other such examples are biology, robotics, climate, and global demographics. Their theme appears to be rooted in a quest to reconsider notions of collectivity. The point has been made that we realize, on some level, that we are all aliens sharing a similar state of existence, despite obvious differentiations, and that this awareness will allow us to unite.
With works positioned among multiple venues and satellite locales, there is no shortage of talent to highlight. Yet, these works—at times—struggle to maintain cohesion. One might detect that the curatorial strategies and perspectives of Momentum 9's curators were independently fought to uphold themselves and have, perhaps, failed to morph into a singular curatorial voice; instead, they have been placed side-by-side under one organizational umbrella. This conundrum occurs often. However, these curators carefully defend their positions, and in this gesture to increase awareness of their individualism, it becomes clear that another goal of this biennial is to simultaneously embrace each voice alongside its collective counterpart.
When examining the venue Momentum Kunsthall, certain works rightfully leave an impression, such as Jenna Sutela's Sporulating Paragraph (2017) which is an organic installation located in the stairwell; the work invades the seemingly sterile exhibition space with living microscopic organisms, with the intent to question the nature of expression and give the pre-human a stage. In a world where established codes and laws are taken for granted, the work interferes with supposed illusions of power and control by reconfiguring the organic sign. Jussi Kivi's Moon Woods (2017) is well worth the wait; one enters an almost pitch-black room, slowly letting the eyes adjust to view a synthetic version of a Northern European forest—lit by moonlight alone. The work highlights a condition known as 'solastalgia,' where one is alienated and anxious due to environmental change. The solitary nocturnal scene careens between comforting and unsettling, depending on one's relationship with solitude and nature. American artist Patrick Jackson contributes newly commissioned works titled Pig Paradise (2017); farmers and their pigs act out a comical yet strange narrative in an alternative utopic universe.
Another iconic venue is Galleri F15, where works contrast one another more drastically as they span over ranging eras. For instance, works by the notable artist H. R. Giger were taken from the interior décor for the nightclub "Giger Bar Tokyo." The artist is best known for his "Alien" (as in the film) creature design, and his contributed works consist of furniture and sculptures that enforce this aesthetic. Giger's excessive chair designs, burial urns, and an emblem for a secret society are given ample space to shine.
Patricia Piccinini's Atlas (2012) is an over-sized, awkward sculpture with chubby folds of flesh and unrecognizable body parts lumped in one globular mass. The work forces one to question their relationship with the body as vessel—and stemming from that: levels of aversion and acceptance. Wael Shawky presents several films: unpredictable narratives revolving around nationalism, religion, and identity. The artist uses wooden puppets and marionettes which magnify the issue that history is often manipulated, and that those in specific roles are motivated by unseen or incomprehensible forces. Mediated Matter's Synthetic Apiary (2016) is a video illustrating the synthetic conditions in which honeybees have been conditioned to thrive year-round, as if they were in a natural habitat. One sees honeybees go through the motions in a controlled space where factors such as light and temperature are manipulated, and where they are given alternative forms of energy—leading to a cohabitation with humans.
Venturing onward to House of Foundation, one encounters ethereal yet macabre paintings by Ragnar Þórisson—with their pastel hues and inhuman forms. The second floor exhibits two artists who are stellar in their approach. Kjersti Vetterstad's video No Map For These Territories (2012) shares scenes of environmental wastelands and otherworldly terrains with no detectable life forms. Yet one hears a detached conversation between two estranged entities attempting to communicate despite some incalculable distance and possible madness. The video possesses both Lynchian and French New Wave qualities; it experiments with both 'language as form' and aesthetics, and contorts time and space. Swedish artist and writer Johannes Heldén writes a book in connection with a display of artifacts. The objects are in conjunction with his text which is an archive of his attempts to sell 43 artifacts (related to events that took place in the month of January in New Hampshire) under three different pseudonyms online—all of the objects are linked to an unspoken catastrophic event. Set in the year 2037, the detailed work poses questions that are left unanswered, thereby leaving the project curiously open-ended.
In Parkteatret, John Duncan's sound piece The Nazca Transmissions (2009) can be heard. The work is uncanny and linked to the artist's interest in fusing experimental music with conceptual art. This piece was, to a degree, accomplished in collaboration with the recordings taken at the Nazca Lines in Peru by the German archaeologist Anton Düder; the location is considered by many to be linked to extraterrestrial life. During the opening weekend, Leon Tan and Amanda Newall presented The Public Dream Clinic (2017) at Galleri Henrik Gerner; the duo tests theories revolving around their mutual interest in creating ritualistic contexts to explore social dreaming, thereby attempting to offer relief from forces present in our waking life, e.g., competition, capitalism, and rationalism. Giving participants the room to live and think alternatively, this work suggests that everyone can abandon the familiar and enter a less threatening meditative space, even if just temporarily. Abigail Deville's intricate site-specific installation A Picture of the Universe in Clock Time (2017) at Momentum Kunsthall, and Trollkrem's benevolent performance Deep Down Below at Alby Beach, were notable public space initiatives; additional sound and image pieces were provided by the artists Third Ear (at SF Kino Moss) with a futuristic, self-aware two-part podcast, and with Ylva Westerlund's online graphic novel.
Momentum 9 artists have adopted diverse approaches and methods, but this biennial appears shorthanded when it comes to literary contributions, readings, lectures, and public debates presented in conjunction with the theme; instead, the curators highlighted a tasteful sampling of artists from the entire spectrum. The drawback to this approach is that a visitor to the biennial may lack the reference points needed to clearly theorize or summate a specific condition or state of being, namely, alienation. A metaphor for this feeling: instead of walking at one's own pace on the city streets, peering into peripheral zones and venturing into buildings, one climbs aboard a tour bus to view the city center. What can be done about this feeling? One could, within the confines of such an event, provide even more ranging examples of plotted points and counterpoints on a larger grid of ideas debated and contested, and, do it in a less artistic but more scientific manner. Also, the event's architectural design regarding categories and sub-categories, which serve to organize, should have been better justified and reconsidered because here, they oftentimes appear arbitrary or contrived. Furthermore, this event should have included more artists who confront and approach current states of social and political affairs with intelligence and determination—thereby avoiding ideologically vague or amorphous rhetoric. A more involved, academic analysis of alienation's causation also should have been considered.
To see the review in context, click here.