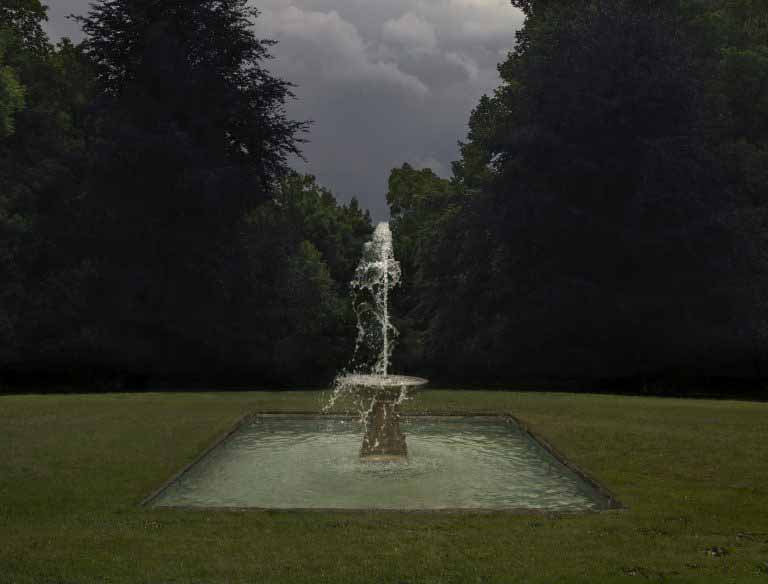 Lovisa Ringborg, Fountain, 2017. Image: Cecilia Hillström Gallery.
In Lovisa Ringborg's second exhibition at this gallery, the artist upholds the argument that displaying a set of harmonious works can be more potent than a plethora of free-floating entities.
Showing nine C-prints of varying dimensions, Ringborg infuses the works with an entrancing mood of eerie denouement: Visitors may feel as if they arrived too late for a significant event, ending up instead engulfed in the isolation that follows an abandoned exploit. The photographer convinces viewers to enter a slippery world highlighting dreams and speculation. Nesting (all works 2017) emphasizes Ringborg's talent for expressing the elusive; multiple bodies are partially covered by blankets, leaving only intertwined limbs in view. In another work, titled Shapeshifter, what is presumably a female body is seen from the side, wearing a furry coat; the viewer is again denied access to the head, which extends beyond the frame. Bodies here are notably disjointed; anonymity and alienation are concerns that loom large in the artist's practice—which at times blurs the line between photography and painting (for instance, Dancing Wall seems impressionistic yet also realistically resembles moss on rock).
Other works embrace an amorphous realm where the natural world of tenacious life cycles is cherished. In Wormhole and Cloudstorm, cumulus clouds and sun rays are in focus—quotidian yet not readily taken for granted. The cloudy haze also presents itself in Neon Vessel, in which soft pink flesh tones suggest a humanly vessel. With works fostering bodily estrangement but also existential relief, Ringborg presents a rapt collection of Baroque-inspired photographs that both prompt meditation and romanticize spectral transformation.
To see the review in context, click here.