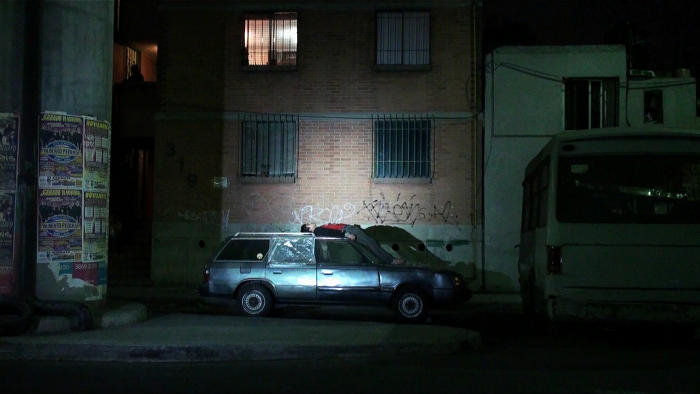 Søren Thilo Funder, Sal Paradise, 2012, image: Den Frie
"Beyond Good and Evil," an exhibition named after Nietzsche's philosophical treatise on phenomena such as how cultures lose sight of creativity and are responsible for their own demise, is part of the Copenhagen Arts Festival and shares its theme with other exhibitions, public artworks, performances, lectures, and screenings in the festival. It appears useful to slide between viewing this exhibition as both an end in itself and as a supplementary chapter of the festival's thematic inquiry into "community."
Iraqi-born artist Jananne Al-Ani's A Loving Man, 1996–99, sets a melancholic yet carefree mood, instilling significance on memory—both failing and accurate. The five-channel video installation consists of female family members in the midst of a game known as either "Exquisite Corpse" or "Mrs. Brown Went to Town," and emphasizes the conundrum of accurately documenting history—they lose their train of thought, stumbling over the narrative as it lengthens. Nearby, Ann Lislegaard's Untitled, 2012, a larger installation consisting of a video diptych, displays images of robotic, mythologized owls struggling to communicate a fragmented message; their muttering is indecipherable. Carsten Nicolai's Future Past Perfect Pt. 2 (Cité Radieuse), 2012, an enthralling video portrait of Le Corbusier's 1995 Unité d'Habitation in Nantes, mobilizes this modern housing icon as a metaphor for the individual's complex design and intricate rapport with the collective.
All of the above works allude to a communication barrier, breakdown, or misunderstanding between singular entities. In contrast, a peripatetic sculpture by Brazilian artists Rejane Cantoni and Leonardo Crescenti (Soil, 2010) illustrates how perspectives can change, and absolutes be abandoned, to address such matters. Walking across their shifting aluminum plates suspended by spiral steel springs, one may find solace in how light and shadows shift—a reminder that every era is manipulated, mechanized, and compartmentalized to suit the times.
To see the review in context, click here.