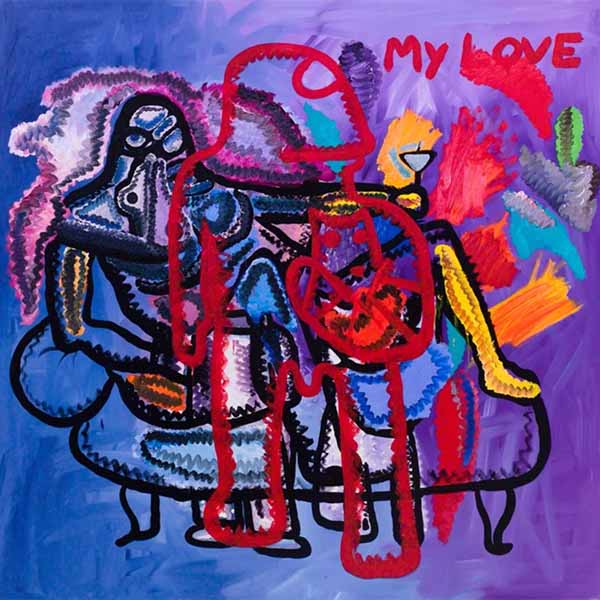 Bjarne Melgaard, Untitled, 2015. Image: Lars Bohman Gallery.
In "Right Here, Right Now," Bjarne Melgaard's impressive new exhibition of paintings and drawings at Lars Bohman Gallery in Stockholm, the artist courageously maps out and shares his psyche, conveying an array of mental states, from neurosis to obsession to disappointment.
Alongside these visual works, Melgaard added free-floating text blurbs directly onto the black gallery walls with white chalk, scrawled phrases ripe for public consumption. Melgaard incorporates academic and appropriated terminology, which nods to his interest in psychotherapy.
As the observer glides from one room to another, it becomes apparent that these works are not to be considered primarily as solitary pieces, but instead as visual components of one narrative, which reflects the artist's mental landscape. Upon entering the show, the first room holds what might be considered the roughest works, colorful drawings on translucent plastic. The second room displays framed works sketched in colored chalk, while the last and largest room displays a series of large-scale oil paintings. None of the works have formal titles, which supports the idea that all works should be interpreted as parts of one larger composition.
Many of these works incorporate phrases or relay fragmented dialogue (for example, "You will be the same" or "It's just so painful"), among the featured characters, which are oftentimes strange, globular humans or, in contrast, cuddly, cartoonish animals. Melgaard's characters share a tragic quality; while they may seem adorable upon first glance, they also appear to be disturbed, caught in a brutal maelstrom of existentialism, which transforms their childlike demeanor into a sense of desperation or helplessness.
While part of a critic's responsibility is to attempt to remain objective about what one views, it has proven to be a difficult task in this case. Melgaard has a talent for dissolving pretense or unveiling emotion in his works. One may discover that their own life, on some level, mirrors that of the characters portrayed in the exhibition; it is easy to sympathize with Melgaard's universal themes of uncertainty, solitude, and even despair. The artist's rebellious nature and anxious energy reveals itself through his deliberate combination of exaggerated scale, vivid color scheme, and intensely personal topics (love, loss, and escape, for example). He also engages in intellectual ideologies; his works bring to mind Guy Debord and Michèle Bernstein's Situationist Movement, Freudian theory, Melanie Klein's object relations theory, as well as philosophical tenets derived from Nietzsche.
Melgaard's current exhibition is fierce and relays to those who are paying attention that we are in the presence of exceptional, uncompromising creativity. In short, "Right Here, Right Now" reminds us that art still originates from human beings who have layered inner lives that cannot be seen or understood with ease. To see the review in context, click here.