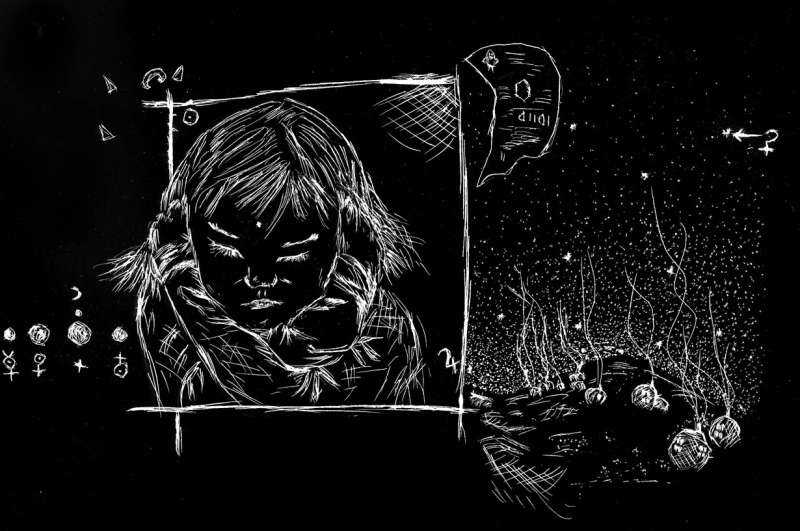 image: Janice Lee
Much is happening on the pages of contemporary literature. Yet, it cannot be concluded that events on the page are closely inspired by those occurring in the world. Sometimes, a writer throws its readers for a loop, and it can be a pleasant sensation. Los Angeles-based writer Janice Lee introduces her literary debut Kērotakis: an offering of strangeness, constructed to allow a number of poetic voices ample stage to be heard—these creations sometimes emerge with the intention of folding in on themselves or exploding already-existing limits, reaching far from reality, hinting towards blissful escapism. A series of reflective yet out-to-sea conversations and soliloquoys between four characters, being: G.I.L.L. which Lee describes as "a cyborg in the future," Dr. Eynan as "a scientist in the past," Brain as "the real brain of Dr. Eynan who is traveling through time" and Zosimosa as "a painter, author and mother out of time," there is no shortage of other-worldly slants. It is initially difficult to predict what direction Lee will choose for this cast of characters, for Kērotakis thrives just as much off of the reader's expectation of what the future might unfold as it does on the interactions between these hyper-conscious, searching entities.
The pages of Kērotakis are alluring; typographical variations are portrayed on a sometimes white, sometimes black, sometimes grey-textured backdrop. Pages periodically host uncoined aphorisms (Return to your dust, return to your dust) and appropriated illustrations such as: an alchemist's preliminary sketches, fantastical airships with oversized sails destined for some uncharted design, architectural lines and segments, playful geometries, fragmented equations, scientific charts, cellular close-ups, isolated animals, pensive little girls, skeletal scenes, as well as mother-slash-woman-of-the-world figures. Kērotakis seems more interested in vulnerable spheres that are taken for granted—such as one's protected psyche, the limitations of the body over the mind and vice versa, desired connections that can or cannot be made between the physical, mental and spiritual. Lee writes, "Identities have been known to fuse and unfuse at particular points in time and space" and magnifies self-doubt, "this is some color but what color is this color, what is a color and which is this?" and creates visual building blocks via sentence structures such as:
I only know what I can touch
everything else
that
exists
is:


construction.

at the end of mind
is failure.
Lee's characters thrive on the basis of call-response dualities. Kērotakis hints at a collective amalgamation and quest to answer the ever present question: "What's happening?" G.I.L.L.'s inquiry methods grope for clarity, "How many revered symbols would continue to elude me in alternative realities, realities realer than some and not as real as others and I as entered the abode, could anything outside of these really be any better?" or: "At what price can a moving island take precise aim at the mechanism that can render steel ineffective?" Without such puzzles, new answers rarely follow. Creating room for a less obvious breed of answers may be, in part, what the world craves. Soft observations are also shared along the way:
A bird, slanted across the sunlight, another one out of

the bottle and a turn, a turn, a turn, another turn. A

similar situation crossed me but I can't remember if I

wanted to. There is beauty in wide open spaces.
When reading Kērotakis, there is a sense that one has been allowed to sift through clandestine notes of an unnoticed scientist more pleased with the process of searching than cornering a finite discovery; the reader is given a bird's eye view over and into curious bodies sequestered in this charged atmosphere, with imagination serving as both compass and tool. Lee proves to be a tinkering mechanic of words, crafting vivid treasures of insight, often dependent on the reader's ability to appreciate abstract angles of light, form and composition. Lee writes:
Dr. Eynan tries to build his own
kērotakis,
or painter's palette.
He seeks results. He seeks meaning.
He seeks consequence. If his vessel
could sublimate some substance, he could
radically change the properties of one
substance using the vapors of another.
He could initiate change. He could
produce radical changes in the colors
and properties of different substances,
metals, even flesh.
Blurred divisions exist between the 'he,' 'she' and 'you,' perhaps supporting a symbiotic relationship between these forces; genders cancel each other out, creating sentiments of a mutually shared neutrality, punctuated with moments of 'red' or nature's inherent means. Slight layout alterations toy with sexuality, warping the continuum of presence and absence. Philosophical footnotes utter notions of Heidegger (Technology is a way of revealing), Plato (But when he looks to the created only and uses a created pattern, it is not fair or perfect), Wittgenstein (Only of a human being and what resembles [behaves like] a living human being can one say: it has sensations; it sees, is blind; hears, is deaf; is conscious or unconscious) or thoughts from Lee's characters ("Or like a stone, still, with essences imprisoned within"), alluding to a yearning for knowledge and truth. Like an astronaut's experimental foray into the unknown, Kērotakis is evolutionary, process-based in its goal to unfurl freakish asides and override erudition derived from history. Yet, this textual creation has the energy of something without an established scientific name—it is imagined that its feet would be firmly planted on the edge of a warm coastline, adaptable gills-made-lungs pulsating.To see the review in context, click here.