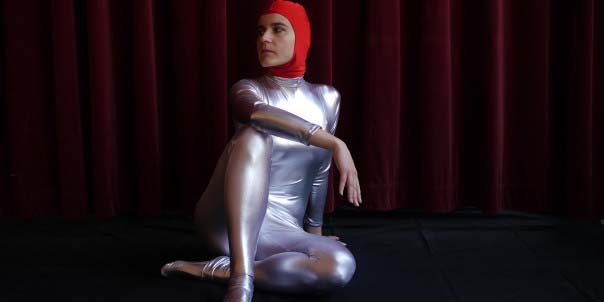 Magdalena Dziurlikowska, Corona Radiata, 2016. Image: Gotlands Konstmuseum.
Differentiating between public and private spheres can be challenging. This group exhibition focuses on how one might successfully share a subjective experience when most individuals are conditioned to distance themselves from others. All four artists in the show experiment with documentary formats, spanning installation, video, painting, and cinematic offshoots. It is easy to oversimplify an observed experience in social media, where an influx of sensationalist explosions and a saturation of stimuli push one to absorb information. This show slows down processing and considers one human factor at a time.
Ylva Ogland's "Transmutation" series, 2008–2016, consists of four diptychs depicting the artist with her father; these paintings are framed by a visceral red backdrop, which is the artist's trademark. Johan Thurfjell offers a minicinema resembling an architectural model for his film Dobar Cú, 2014, in which a "dark wet hound," as described by the artist, guards a secret underworld; Thurfjell also displays a cluster of soft-hued paintings titled Prolog, 2011, perhaps to be interpreted as film stills translated into another form. Most impressive was Magdalena Dziurlikowska's video Corona Radiata (The Radiating Crown), 2016, which examines her personal struggle with pregnancy and miscarriage as a woman in her late thirties. Juan-Pedro Fabra Guemberena's project "Noviembre," 2014–, includes the delicate book Juan-Pedro and Vania Go to the Zoo, 1974, and a large-scale magazine collage, El Gurrumino, 2014. All works relay the sentiment that each person carries an intimate perspective worth acknowledging—one that often can be seen to parallel those of others, if examined.
To see the review in context, click here.