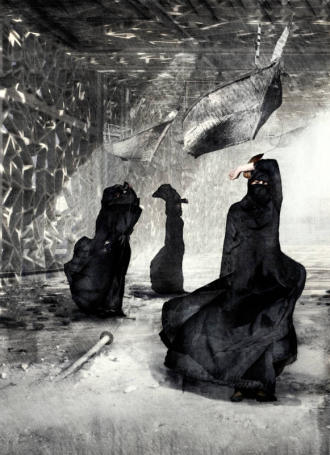 Cooper and Gorfer, Women Boats Left, 2008-10, image: Christian Larsen
Based in Göteborg, Sweden, the artists Sarah Cooper and Nina Gorfer began to collaborate in 2006, for they share an attraction to issues of place and the act of site-specific storytelling. "Under Nomadic Surfaces," the duo's latest exhibition, presents images from their travels to Kyrgyzstan and Qatar; all of the works depict individuals who crossed their paths. The artists emphasize the personal narratives of each subject, eschewing the obvious political or religious connotations that could be extracted from these pictures. Instead, Cooper and Gorfer attempt to portray the memories of each person to communicate the passage of time. The works also highlight the countries' ongoing transformations in order to reflect on changes that may not be readily visible.
Each photograph maintains its own tangible beauty, utilizing rich tones of gold, red, and green, while morphing the classic portrait with collage, painting, and surface manipulation. Acre (all works 2008–10), for example, provides the viewer with an intimate perspective of a lone nomadic woman adorned in robust embroidered fabric, sitting in a shadowed courtly garden under an ancient tree. Another work, titled Women Boats Left, depicts a trio of enshrouded women sequestered in a crystallized, architectural space, as empty boats hover, frozen above their shielded heads in a Dali-inspired dreamscape. Yet not all of the pictures take women as the focal point. Workers Line presents a masculine figure in blue-gray uniform, his face covered, while helmeted colleagues appear lined up at his backside in a developing industrial zone. In one sweep, the gendered demarcation once magnified by the masked women throughout the artists' images blurs; concealment can take on multiple shapes and forms.To see the review in context, click here.