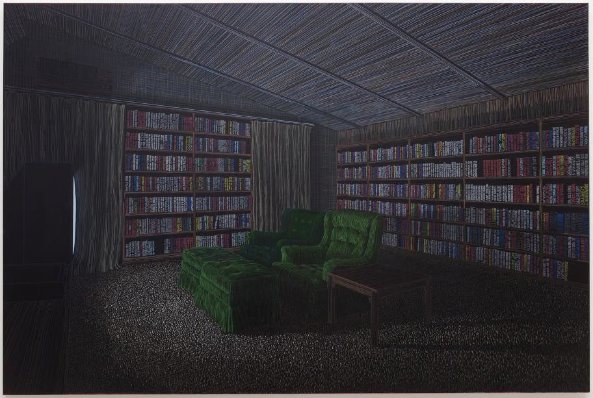 Thomas Broomé, Shimmering Shadows, 2012, image: Galleri Magnus Karlsson
Partially inspired by a three-month residency in the summer of 2011 at Hammars, Ingmar Bergman's isolated estate on the Swedish island Fårö, Thomas Broomé's latest exhibition seems to walk in the iconic director's footsteps, with works that celebrate and reveal the intimate dwelling, room by room, as it appears in the films Hour of the Wolf (1968) and Faithless (2000). Most of the paintings in "The Guest" portray these spaces with thin, sketchy lines that emphasize the half-lit interior of this elongated house by the sea. The new video, Wanderer, 2012, with eerie score by Swedish pop star and songwriter Andreas Kleerup, examines the peculiar house as lights flicker on and off and demons await to haunt. Divisions between line and space, the illuminated and the obscured, public and private realms, and present and past recur throughout the show.
Not all of the works obviously coalesce, though. In the sculpture I Know It, Even if I Can't See It, 2011, for instance, the hand-engraved message I WANTED TOO MUCH on a pinhead is made visible through a high-powered microscope. Such sculptural anomalies are not site-specific, ekphrastic responses like the Bergman-related pieces. This swerve from the exhibition's trajectory creates a contrast between the abstract and concrete and is an invitation to investigate the gap between them. The fifteen-ton crystal that rests on a stack of white pages in A Stone by Any Other Name, Would Weigh as Heavy, 2011, thrives best in the realm of the real.
To see the review in context, click here.