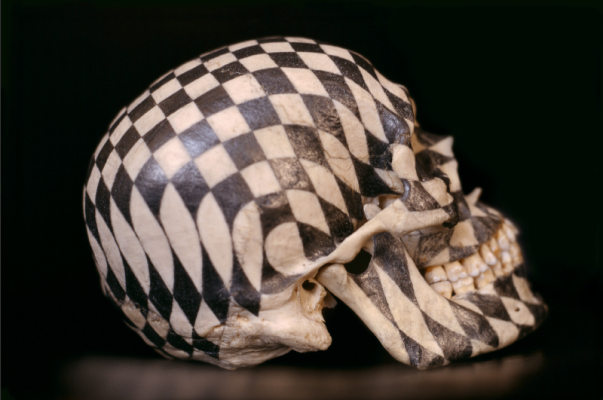 Gabriel Orozco, Black Kites Perspective (right), 1997, image: Collection Magasin 3 Stockholm Konsthall (Courtesy of Marian Goodman Gallery)
Co-curated by Richard Julin, Elisabeth Millqvist, and Tessa Praun, "Thrice Upon a Time" gracefully weaves the curators' self-designed themes, maintaining a balance of 202 art works from 66 international artists working within various media—some established, others given an opportunity to show work for the first time in Sweden. Under the direction of David Neuman, "Thrice Upon a Time" emphasizes the institution's evolution and its scope since its inception more than two decades ago. Magasin 3 is one of the more alluring art spaces in Stockholm, even though it is actually far from the city center, sequestered in an industrial region. An art-historical exhibition with contributing artists born between 1849 and 1978, "Thrice Upon a Time" highlights the importance of collecting, archiving, and public accessibility to a collection. The curators harbor three distinct focal points that breed an intricate conversation based on Magasin 3's collection of works, which has remained mostly out of sight until now. Each curator marks their own designated section of the exhibition space highlighting their narrative approach, yet one is able to move from theme to theme without hindrance. With each new theme presented, a poignant curatorial description is provided, making the transition from theme to theme a comfortable one.
Millqvist's curatorial ambition within the framework of "Thrice Upon a Time" dissects art history by homing in on traditional genres, such as landscape and portraiture, emphasizing the ongoing presence of the natural world in art. Millqvist presents questions of the artist's quest for meaning, escape or reverence through portraiture, the concept of landscape as a classifiable subdivision of portraiture, and how artists have chosen to work within these genres over time. Boo Ritson's Cindy-Rae (2007), a digital print of a live model generously coated with paint in both a sculptural and performative manner, co-exists alongside Cindy Sherman's self-portrait Untitled #195 (1989) inspired by classical painting motifs and her affinity for masquerades and artifice, Gabriel Orozco's cibachrome print of a human skull covered in a checkered, black-and-white graphite pattern titled Black Kites Perspective (1997), and Gunnel Wåhlstrand's Mother profile (2009) being a handprinted lithograph on paper. These works and those along side of them complement one another, illustrating ways in which portraiture recurs as a medium without enforcing an obvious pattern or trend. Whether or not Millqvist's selections follow a trajectory based on any art historical reference remains debatable; these pieces thrive because they are relieved of the obligation to wholly represent any era.
Praun's curatorial perspective investigates the spatial and architectural aspects of art-making, as well as dichotomies of exterior/interior and mental/physical. Offering an insider's view into artists' working methods, habits, whims and studio milieus, Praun provides a window into the artist's personal space and peripheral inspirations. For instance, Karin Mamma Andersson's Studio (2007) shares the painted interior of her studio, hinting at a meta-relational mode of interaction. Andersson's cluttered studio becomes the object of interest, shifting an artist's environmental afterthought into view—once a workspace, now a work of art—suggestive of Bruce Nauman's studio mapping meditations as a response to artist's block and bouts of nothingness between creative peaks. Though fascinating in content, at times, this portion of "Thrice Upon a Time" seems cumbersome due to its textual dependency; Absalon's video Proposition d'Habitation (1990) can seem inaccessible without wall text explanations. Yet, this is a small price to be allowed entrance into these artists' landscapes.
Julin's inquiry invokes a personal sense of adventure by igniting one's imagination, offering multiple avenues of exploration, granting the freedom to both examine objects in heightened detail, and tweaking one's enthusiasm for both the past and present. Labyrinth-like and located in Magasin 3's basement, works such as Richard Tuttle's A-R London Series (1982) is an artist's response to serving in the United States Air Force, resorting to the speed of paint over the speed of sound; Lena Svedberg's Lyndon Johnson och Svenska Dagbladets chefredaktör Allan Hernelius (1968) offers a snapshot into the history of Swedish satire; Cecilia Parsberg's video of two women in combat titled Don't be stupid (1997) appears to be a visually engrossing power play into the politics of communication. With delicate artifacts on display, askew mechanisms in motion, and sensual, oceanic sculptures such as Catalina (1980) by Lynda Benglis, "Thrice Upon a Time" proves to be a quintessential precedent of engaging curatorial practice.