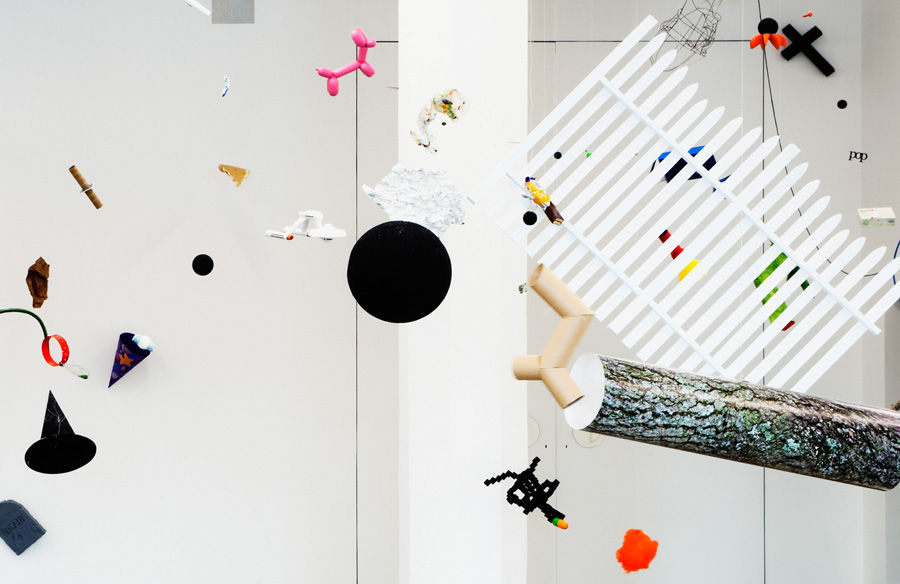 Tom Friedman, Up In the Air, 2009, mixed media, dimensions variable, image: Christian Saltas
The first solo exhibition in Scandinavia by the Leverett, Massachusetts–based artist Tom Friedman is titled "Up in the Air," and it asks for a heightened consideration of what consitutes a meaningful experience, in hopes of upgrading the possibilities of artistic production. Although some might find Friedman's work inaccessible or view it as the output of someone with too much free time, such reactions perhaps bespeak a certain impatience and ingratitude toward what we have and what we are, stances that risk locking us into the predicament of feeling disconnected from current artmaking strategies. It can be difficult to appreciate an artist's motivations when they seem unaffected by some mutually shared reality. Yet Friedman is sensitive to the gaps that inhere in subjective interpretation, leaving room for self-navigation.
Friedman wishes to slow down the viewer's experience so that one might embrace new contexts. This relaxed perspective is apparent in works such as REAM, 2006, which loops five hundred diverse drawings in an animated film, as well as I'm Not Myself, 2008, tiny prints of the artist's head crumpled in singular combinations. Excess and detail prevail. Curious objects are suspended in midair, encouraging observers to take a time-out, or to pause before swiftly interpreting the world and its shifting components.
American fame may grow thin—some have lost interest in the country's self-confident antics, lackluster entertainment, and oversimplified political dichotomies. Yet artists such as Friedman are not guilty of catalyzing these aforementioned failures; his work isn't predictable, arrogant, or dogmatic. "Up in the Air" reminds that neither art nor life can be cornered into conclusion. Difficult times do not always demand difficult answers, and answers are sometimes uncertain. Sometimes, material simplicity and playfulness are answer enough.To see the review in context, click here.