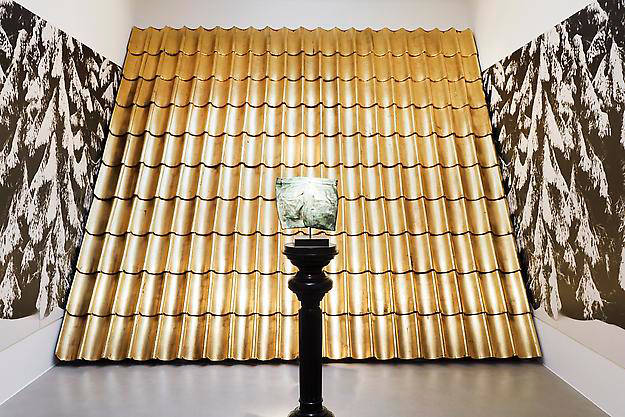 Ulrik Samuelson, Installation View, 2013, image: Lars Bohman Gallery
Though this exhibition—an interplay between paintings, installation, and sculpture—is Ulrik Samuelson's first at the gallery, the Swedish artist has for decades made work with a distinctive style that also characterizes his public commission at the Kungsträdgården metro station. What strikes one as particularly Samuelsonesque is both a sense of regal power (evoked via classic architectural motifs, Nordic nature scenes, and intersecting geometric shapes), and notions of masculinity explored through sublime color schemes and unflinching landscapes that penetrate the psyche. Shades of amber and russet contrast with blackened charcoal, leaving paintings aflame, violently yearning. Serving as tribute to Samuelson's now-deceased brother, a shrinelike installation connects works from over the course of the artist's career, functioning as entry into a private world made accessible. Majestic images of black and white trees wrap around the room, the center of which features a gold-plated, slanted wall resembling the shingled rooftop of a transcendent palace, dominating a light green sculpture in the foreground. Throughout this exhibition, Samuelson asserts the value of solitude and cultivates a safe zone for contemplation.
The artist cajoles viewers into renegotiating their ideas of traditional ornamentation, integrating objects such as draperies and podiums, which, from one perspective, do not simply serve as spatial placeholders but aspire to carry significance. As if these objects remind us that nothing is ever what it seems, "Efter naturen" (After Nature) slithers between a futuristic netherworld and a foreboding, mythological one, hinting at a timeless alternative to reality. None of these works introduce the human form, instead conjuring energy from aureate mountain slopes, the seductively alluring moon, or the omniscient sky. French Impressionism, Carl Fredrik Hill, and Edvard Munch appear to be influences. Gaston Bachelard argues in The Poetics of Space (1994) that the function of poetry is to give us back the situations of our dreams. From this perspective, differentiating between poetry and Samuelson's paintings might well be futile.
To see the review in context, click here.