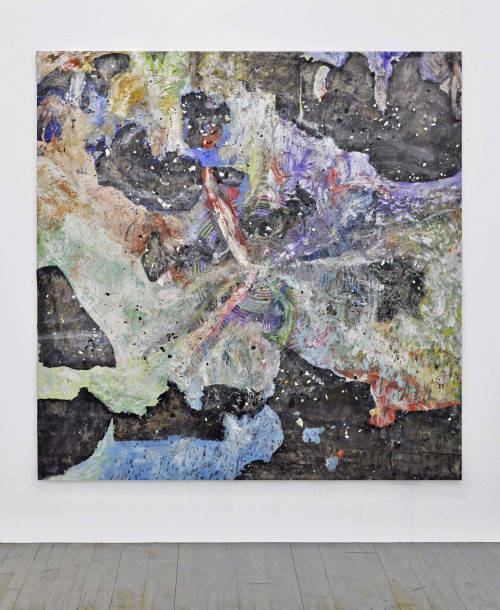 Viktor Rosdahl, Last Secs of Che, 2014. Image: Johan Berggren Gallery.
Upon viewing Viktor Rosdahl's ambitious, perplexing solo exhibition, one is entranced when gliding between paintings and sculptures that display the Helsingborg-born artist's characteristic iconoclastic and murky aesthetic, more playful works and others that display an emerging psychedelic tendency—as seen in Last Secs of Che (all works 2014), a vibrant clash of colours splayed across the canvas, as if an unwarranted explosion had occurred or was imagined in a distant fictive locale. Alongside this intense painting stands the monumental canvas A Certain Promise of Death and Defeat, where the artist convokes a Swedish flag that could be burning, whirlpool pits, a vortex with a peephole and a tyre, all floating atop a dirty grid of intersecting lines.
The show's title suggest that Rosdahl wants to address and weave together political and societal states of being: a quorum is the smallest number of people required to make a democratic decision. Yet by appropriating related symbols floating ambiguously out of any original context, the nature of each 'situation' created by grouped materials here proves to be cryptic and at times indecipherable. This leaves interpretation free—the spectator only gains according to the effort she puts forth. Pairing 'quorum' with 'sensing' can be read two ways (the way in which a quorum senses versus sensing for quorums) and begs the question: whose ambitions, dreams and emotions are part of any collective sensing? In addition to these fresh paintings are numerous spherical sculptures, such as the floating, bent hula hoops of Untitled #3, while oversize rags, taken from the artist's studio and originally used for cleaning—remnants of the artist's reality—are introduced as elements of new work in the sculptural mix of oil-on-canvas, stainless steel and cloth that is Untitled #7 (View from Studio).
Generally, Rosdahl's previous works have not been overtly political; they instead consist of foreboding black-and-white cityscapes, gothic industrial panoramas, warped suburban scenes or eerie portraits. Yet the artist recently adopted the dual position of curator and artist in the Malmö-based strand of events—first initiated in Sundbyberg, Sweden, by Joakim Forsgren and Mikael Goralski—known as Kosmisk Kastrering('Cosmic Castration'): his 'happening' included site-specific performances and works by artists such as Petr Davydtchenko, Tris Vonna-Michell and Mattias Bäcklin. This project additionally addressed the politics of space and Malmö's sociopolitical dynamics. If certain peripheral spaces in Malmö are neglected, then the decision to enliven an ignored gravel lot might define the artist as activist and instigator.
Is Rosdahl reacting to modern-day propaganda and ideals which visually provocative alternatives, or is he simply responding to the latter with an emergent, otherworldly chaos and energy in flux? With works such as Love & Devotion, a spray paint and collage piece on found carpet, where Rosdahl collaborates with controversial graffiti artist Nug, the artist has moved from one mode of operation into another—more insistently absorbing and circulating the energies of other creative types. Perhaps the is the quorum ('of whom' or 'who' roughly translated from Latin) that Rosdahl highlights—an imaginative, experimental assembly. Considering the recent knife assaults instigated by neo-Nazis that followed the International Women's Day demonstration in central Malmö (occurring at the same time that this exhibition was on display), exhibitions focusing on charged frequencies such as this one demand closer inspection and praise, for many Scandinavian artists choose a safer, even seemingly 'silent' route.
To see the review in context, click here.