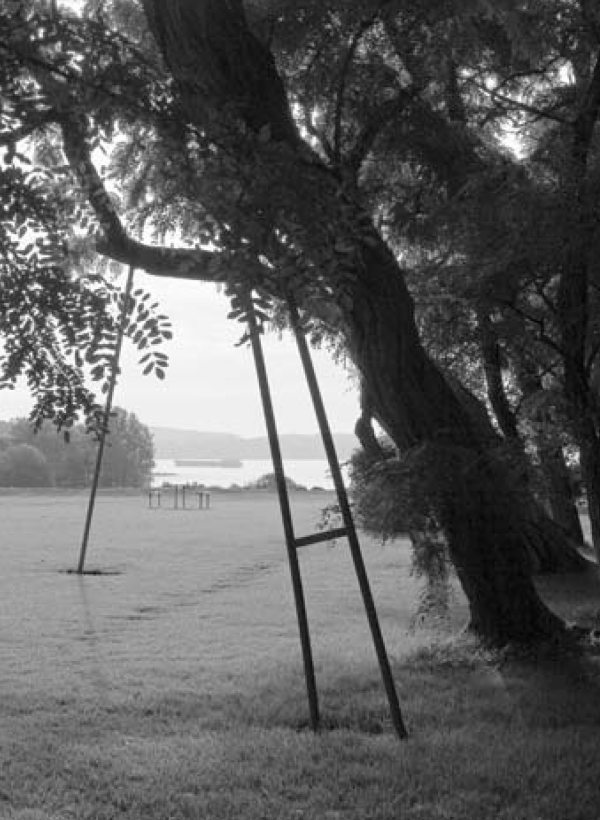 Wooloo, Two Years' Untouched Garden, 2011, image: Momentum
Touring the sixth Momentum Biennial, Imagine Being Here Now, located in Scandinavia, introduces contrasting stimuli: an impressionistic panorama of sailboats, elegant horses roaming the fields and building cranes unfolds around the viewer. Contributing to this event alongside forty-nine other international artists is the Danish art group Wooloo, whose members are Martin Rosengaard, Sixten Kai Nielsen and Russell Ratshin. Though it is usually protocol to exhibit inside the event's designated spaces—Momentum Kunsthall, Gallery F15, the Solberg Tower—Wooloo decidedly engaged with the environment outside Gallery F15's predicated zone. The art group explains their position in a dialogue with Momentum's Danish curator Christian Skovbjerg Jensen: "The invitation we got was very academic and abstract and filled with sweeping statements about temporality and spatiality which in effect could apply to 95% of the world's artistic practices… we felt that you [Momentum's curators] were expressing yourself from a place populated only by politically and financially free individuals who not only can imagine being precisely where they want to be but also have the physical means to be there, and that you weren't relating critically to this."
Wooloo follows a strategy which upholds their sustainable art practice: "For us it's about doing things that are relevant." They note that their work does not always result in an "activist" outcome, but since they focus on only a few projects yearly, it often appears so. At Momentum, Wooloo applied Norway's environmental policy onto Gallery F15's preened back garden which faces a verdant slope overlooking the Oslo Fjord. Their contribution Two Years' Untouched Garden both provokes the status quo and imagination. The original idea for their piece lies in not allowing humans to interfere with the garden, both mimicking and responding to Norway's international environmental and foreign aid policies—specifically the UN's Reducing Emissions from Deforestation and Forest Degradation (REDD) program, which promises one billion USD to Indonesia if the country decreases their annual deforestation. This gesture attempts to compensate for the fact that Norway produces approximately 2.2 million barrels of oil daily, reaping economic benefits from exploiting and exporting their natural resources. Wooloo remarks, "It's this absurdity—the REDD program's condescending promotion of non-action, paid for by action—that led to Two Years' Untouched Garden."
Wooloo hopes to override the money-equals-culture formula by creating art which costs nothing, communicating with those who may not find themselves inside but elsewhere. They question and reject the regulated schematics of biennals and the art world as it currently functions. The art group requested that Gallery F15's garden be fallow for two years, until the opening of the 2013 biennial—a harmless proposal—yet local politicians protested. Wooloo's work was banned, a new law was quickly passed to ensure lawns would be mowed each Friday (a chess move to ensure that the issue would not remain moot), and their initial intention has been forced to now reside in one's imagination. Could an unintended outcome be more instrumental than an intended one? The prospect of real change is magnified by their stance, or rather by being forced into inaction—by not being able to let Gallery F15's garden grow wild—their work becomes a compelling protest against ineffectual policies.
Two Years' Untouched Garden can be interpreted as a failed anti-interventionist experiment, yet the debates which arose from their activism amplify intertwined relationships between art and politics, between culture and nature: no chaste divisions exist between these spheres. If this biennial was a trusted metaphor for the art world, fifty artists were chosen by five selected curators—this miniscule percentage is allowed to represent an entire conglomerate of creatives co-existing yet excluded from the event. Wooloo emphasizes individual experience rather than a specific cultivated effect, and in contributing work with an outcome dependent upon one's personal perspective, the nominal is more apt to gain significance. This inquiry stems from their practice: who has the freedom to enjoy biennials and explore artistic freedom as it realistically stands and hopes to be? Like the political tactic of a filibuster, in order for one to speak and be heard, others must be silent. Wooloo's contribution as imposed non-participation pays homage to the peripheral and confirms that capital should not effect artistic production. Erich Fromm noted in Escape from Freedom that power can be interpreted as domination or potency. From this perspective, Wooloo is Momentum's trickster; they harnessed the event's power-as-domination, utilizing its authoritarian position to stress Norway's environmental hypocrisy thereby instigating potency for relevant progress.
Additional Wooloo initiatives (e.g., Defending Denmark, New Life Copenhagen, Asylum NYC) renegotiate notions of community by thwarting noxious phenomena such as indoctrination, racism, isolation, exclusion and waste. Their ambition to reformulate connections—between and amongst humans and nature—is bold. What is possible when there is a shift away from the fictive towards the consequential? As Momentum's Swedish curator Theodor Ringborg buries clandestine artworks to be retrieved in 2061—an exclusive time capsule exercise—Wooloo concentrates on suspect events unfolding above ground.To see the review in context, click here.